What happens in Rome…
The weather is lovely, the food and wine are great and the espresso is keeping me awake. But these were (not) the real reasons I am in Rome. After five Cocoon GetTogethers in the lower countries the Italians decided to organize one. They found a great place for the hackaton: the zoo! We are surrounded by wild animals, palm trees and families with kids. Once in a while the families decide they want to see what the Homo Sapiens Computerus does in the zoo with a computer. Then we look back and they run away, scared of the pale skins.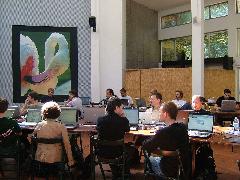 Yesterday I spent most of the time meeting people, explaining Hippo CMS, the project wizard and pimping my demo a bit. I still have to practice my demo more to make it look really cool tomorrow. I guess it will be hard to present something "new" for Cocoon 2.1 since the talk of the town is 2.2. Jeroen Reijn is trying to get a WebDAV connection with Hippo Repository in Cocoon 2.2. At the moment his computer downloads a lot of dependencies but he did not succeed YET in getting it to run. Ah well, there are worse places to try this than in the shade of a palm tree.