San Francisco — Day one
Next week I 'have' to work at a customer in San Francisco. "Have" to because it's not a punishment to go to this city 🙂 I arrived yesterday but after the trip and the waiting at the customs I was too tired to do anything. So today was the first whole day in SF.
Although California is known for its sunshine, but this morning I had bad luck with the weather. It rained cats & dogs so despite my umbrella I decided to take the bus downtown and do some shopping. Not really in the mood to look for clothes, but I could not skip the Apple Store. In The Netherlands all accessories are stored behind glass or the counter, here you can just grab the accessories you want to buy and walk to the cashier.
After enjoying a double espresso macchiato I decided to visit SFMOMA. They advertise with big names like Matisse or Picasso but either I overlooked some paintings or they just exhibited 1 painting per artist. Ah well, if you really want to see Picasso, go to the other MOMA 5000 km eastward. Despite that I enjoyed the museum, especially the temporary exhibition of Google Doodles made by children. I was impressed by the beautiful Doodle made by 7 year old kids.
Update: while waiting for the BART to SFO I saw the poster for SFMOMA. The Picasso and Matisse paintings were in a special exhibition, so I did overlook something. I enjoyed the other parts of the museum.
When I left SFMOMA the sun suddenly showed up. After a quick lunch with a delicious avocado & cheese bagel I decided to go to Alcatraz because the weather had changed. Unfortunately I wasn't the only one and all tickers were sold out for today, so I took a walk along the bay towards the Golden Gate Bridge.
The walk was so nice that I could not stop walking. I came pretty close to the Golden Gate bridge but I didn't make it to the bridge. On Google Maps I found out it was a 6 km walk and the bridge would be another 2 km, that was a bit too far.
I found the way to the nearest bus stop and came back to the hotel. Something that really amazes me about this city is the street pattern. European cities with these kind of steep hills would have twisted streets, New York has flattened its hills, but SF just follows the grid, even if this means that streets are very steep. Respect for all the drivers and the cyclists in this city!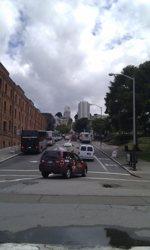 Now it's time for dinner 🙂